In 2012, as part of a commitment to reduce food waste and recognize the opportunity to help alleviate poverty in the UK, Tesco strengthened its partnership with WeGiveit partner; FareShare by ensuring surplus food within its supply chain is used to feed people.
The partnership with FareShare is perfectly aligned with Tesco's CSR objectives to both reduce food waste and support local communities, as the surplus food Tesco provides is redistributed by FareShare to thousands of charities and community groups across the country.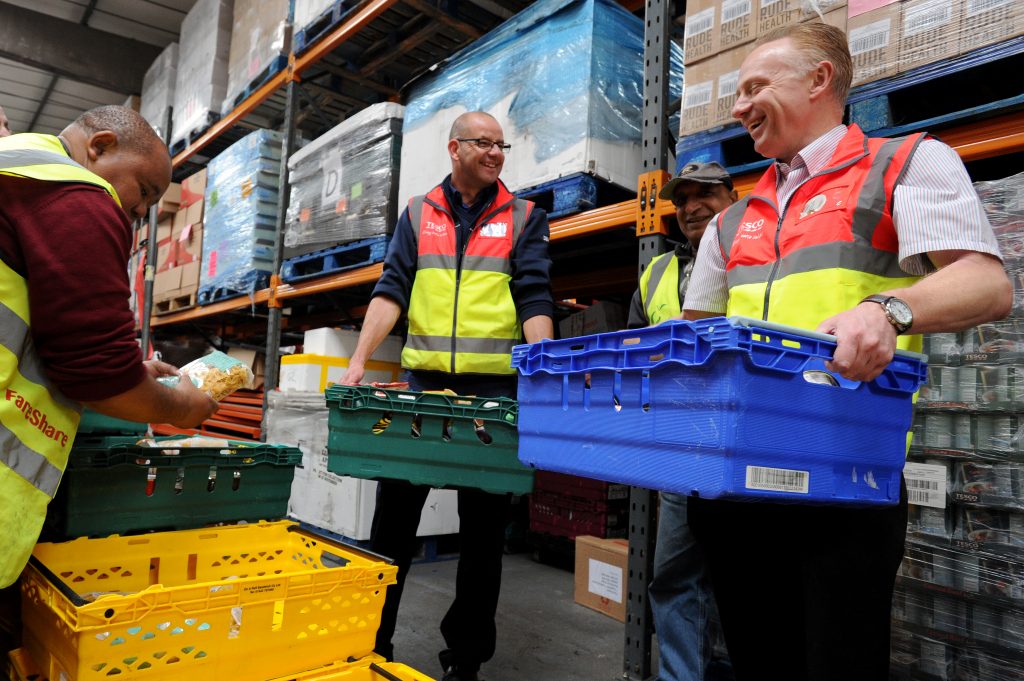 ---
Supply Chain Solution
Tesco's surplus food redistribution initially started with an opportunity in their online grocery business. In stores fulfilling online orders only, food cannot be reduced to clear, potentially leading to a surplus. This surplus is identified daily and split between a staff shop and FareShare. A successful trial saw Tesco.com vans from all six online grocery stores in and around the M25 delivering food out to FareShare's Deptford and Brighton-based Regional Centres daily.Following the success of the online grocery roll-out, Tesco moved on to identify the ability to divert surplus food from within their Fresh Supply Chain to FareShare. Tesco recognised the importance of identifying Fresh surplus food as early as possible to ensure the longest life for redistribution. FareShare now receives surplus food from all eleven Tesco Fresh Distribution Centres, including fresh fruit and vegetables, meat, dairy and chilled ready-meals.After maximising this opportunity, Tesco turned their attention to their ambient surplus. From the autumn of 2015, Tesco Grocery distribution centres began delivering the surplus to FareShare regional centres. This food includes dry ambient goods like rice and pasta, tins and jars and other store cupboard essentials.Additionally, as and when it occurs, FareShare also receives range reset stock and discontinued lines, making the best use of products which no longer have any commercial value but are still perfectly fit for human consumption.
---
Supplier Network
To help increase the volume of food reaching the FareShare network even further, Tesco have introduced FareShare to their supplier base as the recommended solution for creating social value from their surplus stock. This has in turn, led to new food manufacturers and producers partnering with FareShare to redistribute their surplus products, providing even more meals to people in need.
---
Store-Level Solution
To combat food waste appearing at store level, Tesco partnered with FareShare and Irish social enterprise FoodCloud to roll out brand new scheme called FareShare FoodCloud.Combining innovative technology with on the ground support, FareShare FoodCloud is a simple and safe solution for redistributing store-level surplus food to people who need it. Once charities have registered for the scheme and been matched with a participating store, they are notified about unsold food by text message and can then collect the food free of charge.After a successful pilot in London in June 2015, FareShare FoodCloud is being rolled-out to all UK Tesco stores, with the target for the scheme to be live in all Tesco stores by the end of 2017. Charities and community projects can register their interest here.
---
Tesco Customers
Since 2012, Tesco has hosted the Neighbourhood Food Collection twice a year in partnership with FareShare and the Trussell Trust. Working together, volunteers and Tesco staff encourage customers to donate food at collection points in Tesco stores across the country in what is now the biggest food collection in the UK. The Neighbourhood Food Collection allows FareShare access to long-life cupboard essentials that complement the predominantly fresh food that we get from Tesco and other food partners.Following the success of the Neighbourhood Food Collection, Tesco have installed Permanent Collection Points (PCPs) for FareShare at over 140 stores across the country. Tesco shoppers can now donate food during their shop to help feed people in need 365 days a year.
---
Results
Since our partnership began and taking into account all of their distribution channels, Tesco and their customers have provided enough food to make 16.4 million meals for vulnerable people across the country. Our work with Tesco demonstrates how the retailer has taken a pragmatic and pro-active approach to maximising the surplus food distribution across all parts of their operation, creating a huge social benefit to communities across the UK.
---
Josh Hardie, Corporate Responsibility Director at Tesco explains:"Food poverty is a significant problem in the UK and we want to help make a difference. We have built on our relationship with FareShare ensuring that all our fresh and ambient food surplus from distribution centres and online grocery stores goes to feeding people in need. This food will provide millions of meals a year for people in the UK." Lindsay Boswell, Chief Executive of FareShare says:"Tesco has demonstrated real leadership in tackling food waste. Over and above the large volumes of surplus food they provide us, Tesco should be applauded for how they have embedded FareShare into all aspects their business – from distribution centres to stores and fresh food to ambient. Tesco's level of commitment to using their surplus food for social good, has helped provide millions of meals for vulnerable people across the UK."
---
Follow Fareshare on Facebook and Twitter
You can donate to Fareshare for free on WeGiveIt. Head to the homepage and watch free videos.